This topic explains how to install an additional Active Directory domain controller in an existing domain. The steps apply to domain controllers that run Windows Server 2008 or Windows Server 2008 R2. If the domain controller that you plan to install will be the first that runs Windows Server 2008 or Windows Server 2008 R2 in your domain or forest, you need to prepare the domain before you can install the domain controller. In this case our first domain controller runs Windows Server 2008 R2.
To perform this procedure, you must be a member of the Domain Admins group in the domain in which the domain controller is being installed.
To start procedure Log on to the server you want to promote to a domain controller and follow next steps:
Specify the preferred DNS server
Set up static network parameters: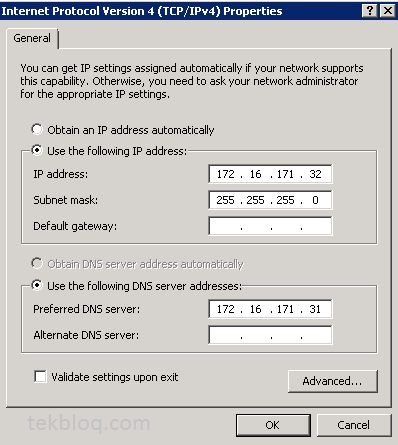 2.After that Open Server Manager and click on Roles and then Add Roles to start installation and click Next: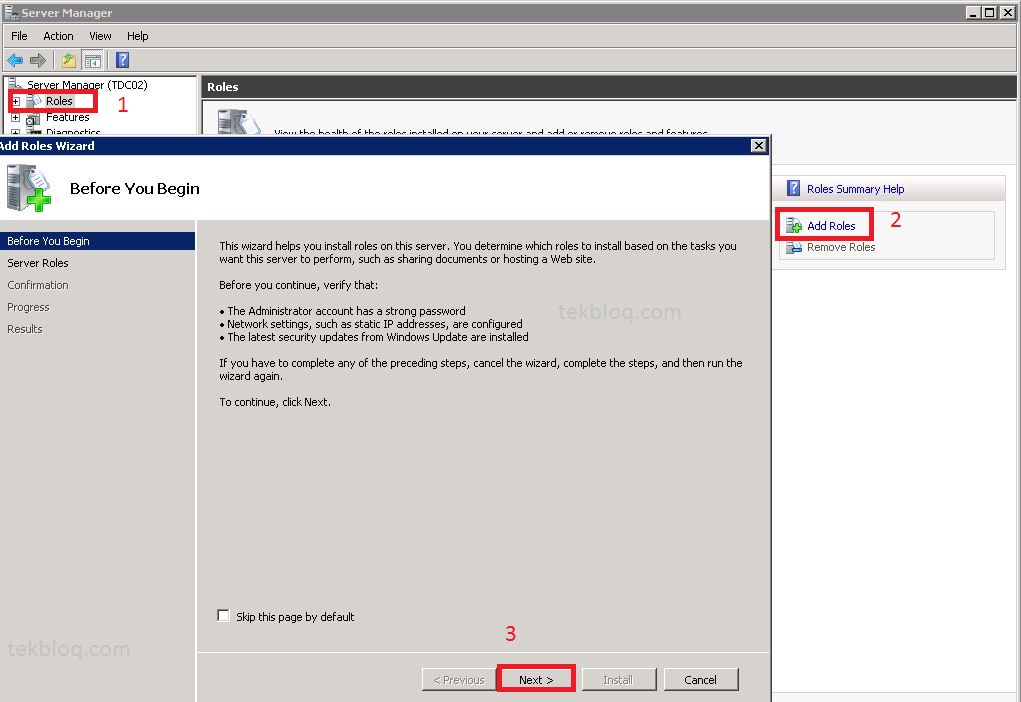 3. On the Select Server Roles page, select the Active Directory Domain Services check box, and click Add Required Features and then click Next: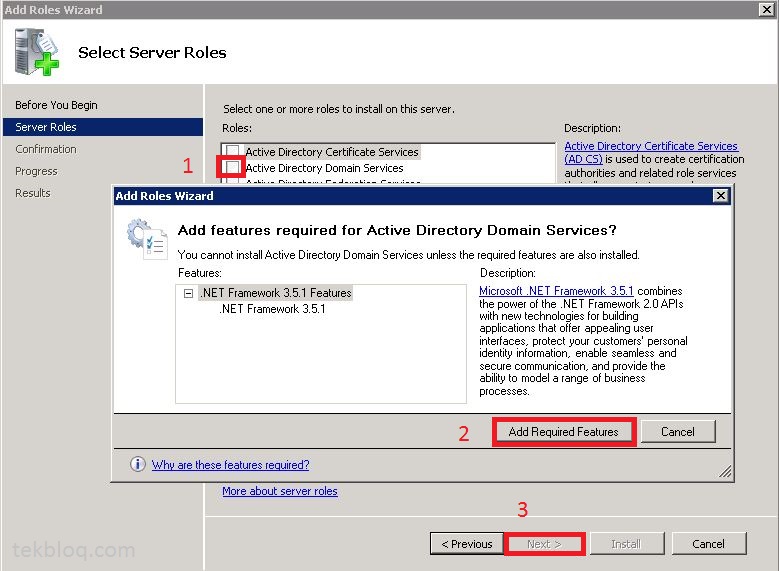 4. Click Next (this page introduction about ADDS):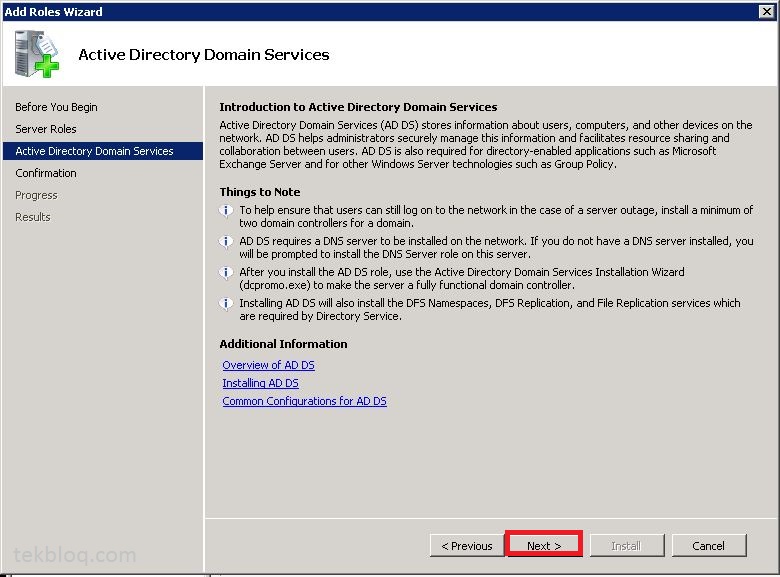 5. Click Install: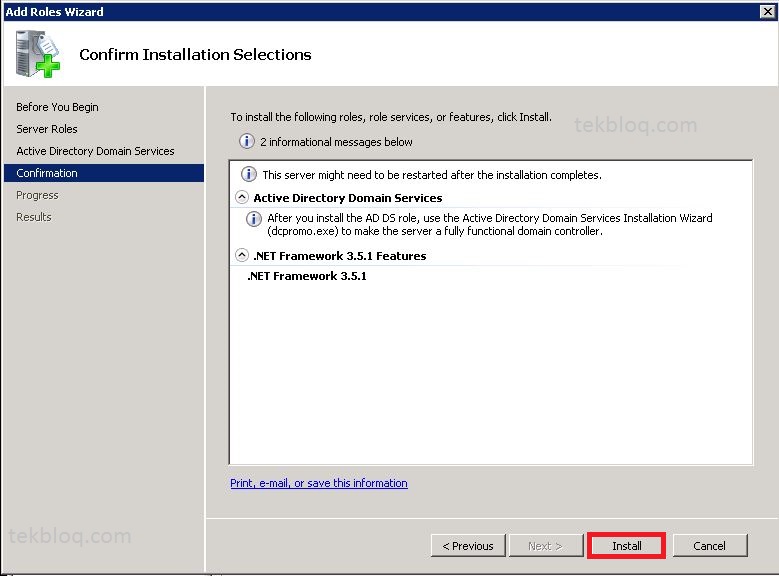 6. When the installation is finished you will be shown a success message, Click Close.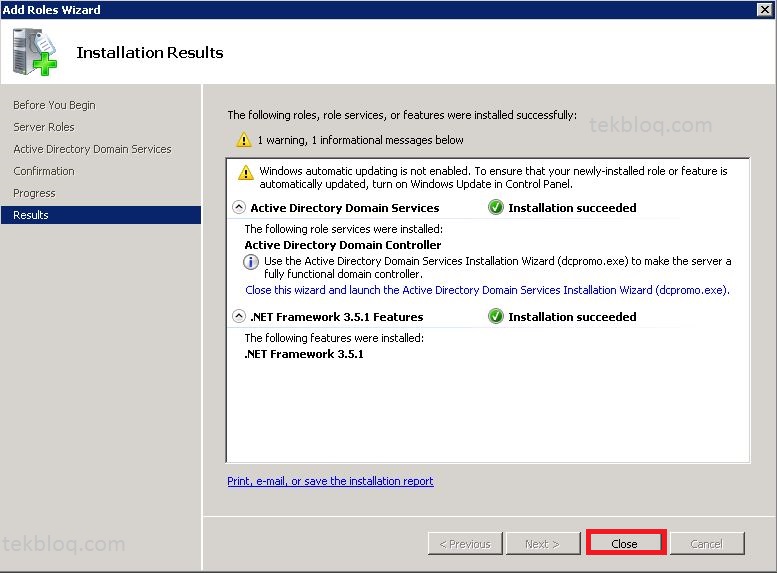 Enable remote management , Open the Server Manager window if it is not already open and  enable remote management.
7. Open up Server Manager, expand Roles and click on Active Directory Domain Services. On the right hand side click on the Run the Active Directory Domain Services Installation Wizard (dcpromo.exe) :

8. Select Use advanced mode installation and Click Next on the Welcome wizard: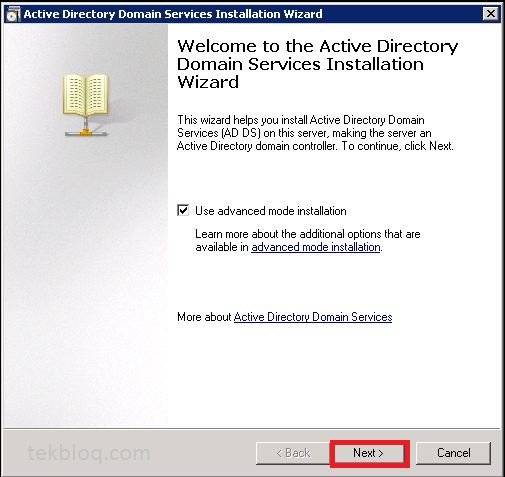 9. On the Operating System Compatibility page, click Next (The message that is shown now relates to older clients that do not support the new cryptographic algorithms supported by Server 2008 R2, these are used by default in Server 2008 R2)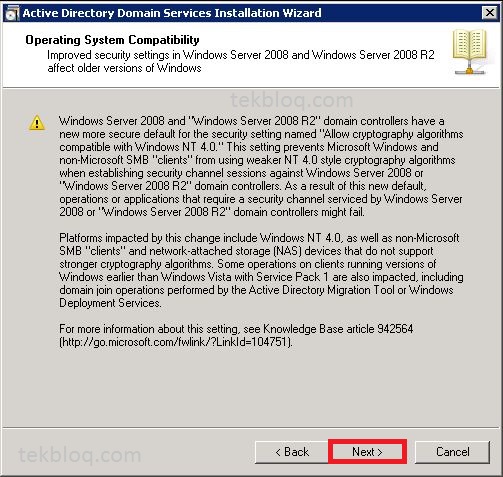 10. On the Choose A Deployment Configuration page, select Existing Forest, select Add A Domain Controller To An Existing Domain, and then click Next: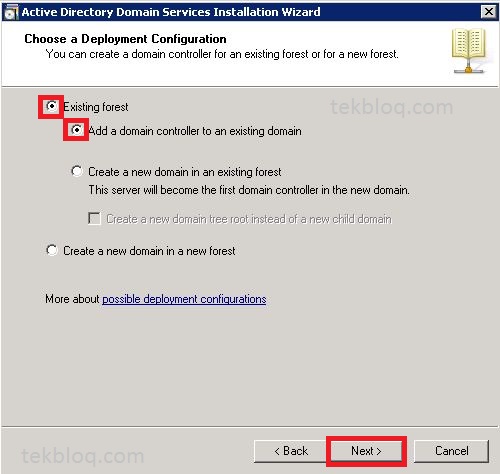 11. On the Network Credentials page, type your domain in the text field, select Alternate Credentials, and then click Set.
Enter user name and password for an account that must be a member of the Domain Admins group  and Click Next:
12. On the Select A Domain page, select domain and click Next: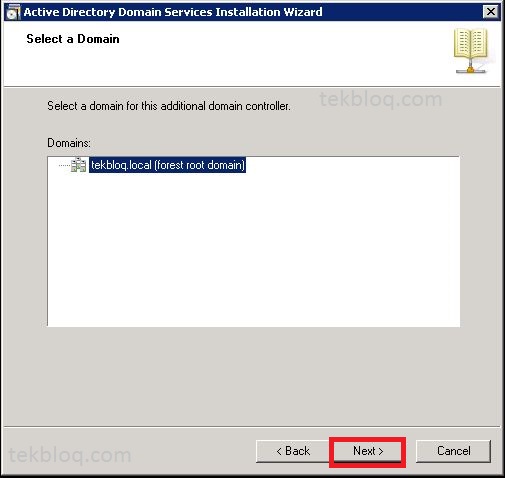 13. On the Select A Site page, select Default-First-Site-Name and click Next: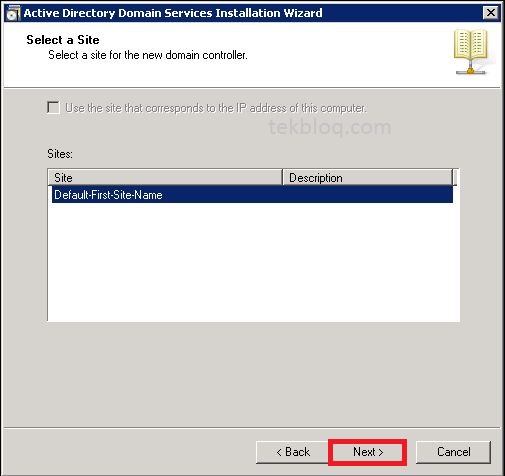 14.  The Additional Domain Controller Options page appears. DNS Server and Global Catalog are selected by default. if you want to be an Additional DC – DNS server and a Global Catalog, so I will keep the check boxes selected and click Next and click Yes: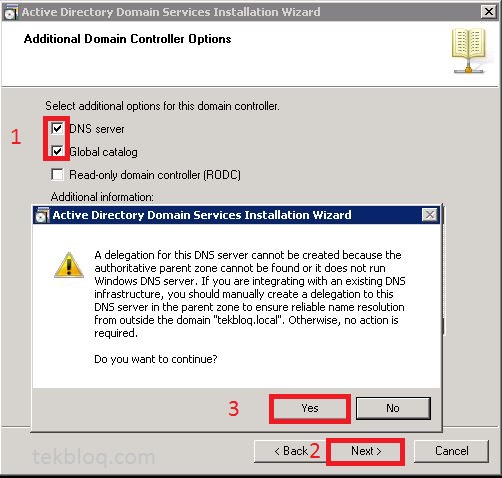 15. Choose default option to replicate data over the network from an existing domain controller(or You can choose replicate data from media at the following location to create the domain controller) and click Next: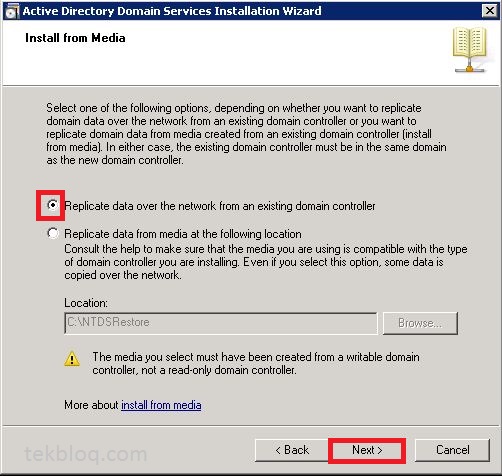 16. Choose default option to replicate data from other existing DC in a network, or click Use this specific domain controller to specify a domain controller that you want to provide as a source for replication for  new domain controller and click Next: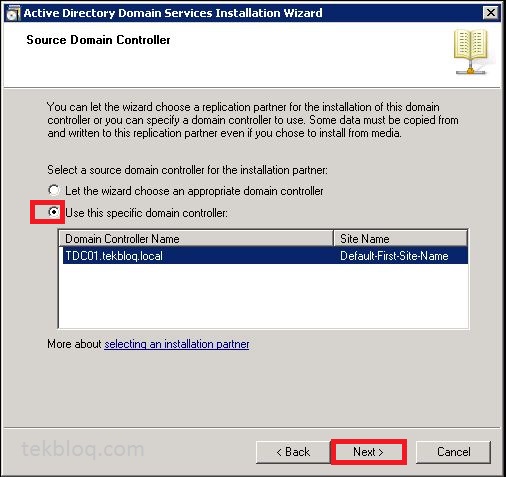 17. On the Location for Database, Log Files, and SYSVOL page, accept the default values and then click Next: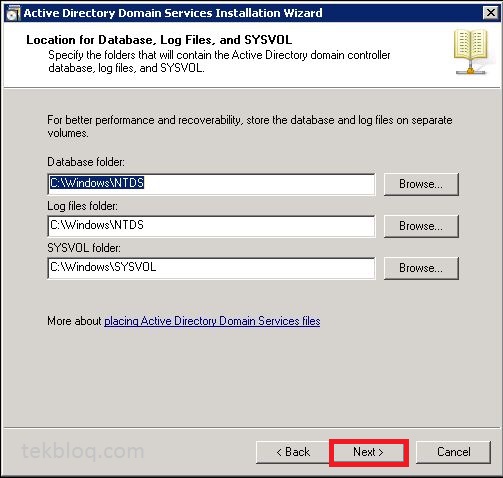 18. Choose Active Directory Restore Mode Password and click next: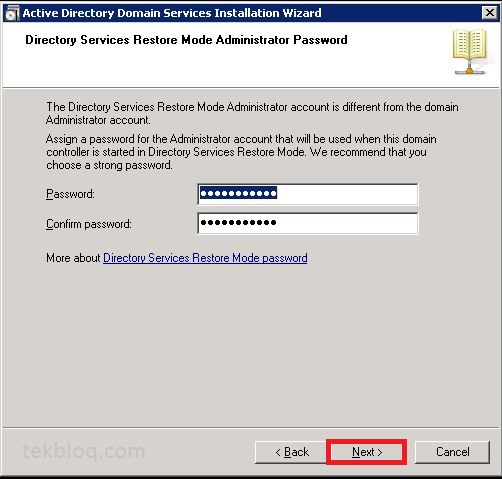 19. On the Summary page, review your selections(you can also export your settings) and then Click Next: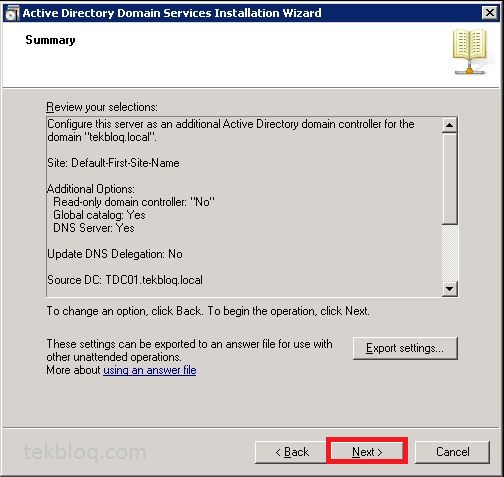 20. The installation begins and if you want server to restart automatically after the installation is completed, select the Reboot on completion check box: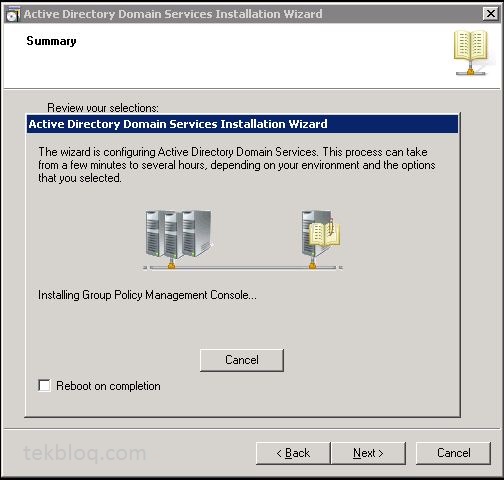 21. Click Finish to complete installation: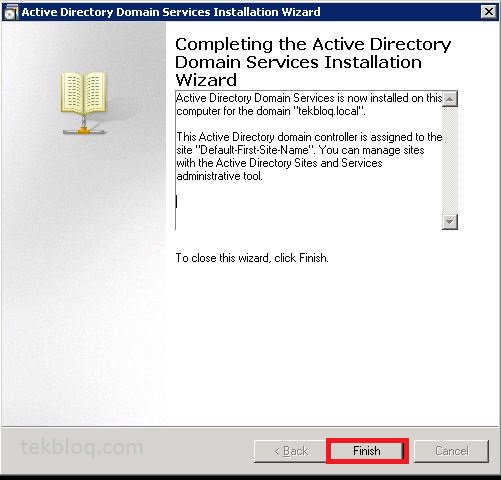 22. Then click Restart Now to  restart the server:

23.  The following windows you can see AD Users and Computers And DNS manager screens DC1 and DC2: