A database availability group (DAG) is the base component of the Mailbox server high availability and site resilience framework built into Microsoft Exchange Server 2013. A DAG is a group of up to 16 Mailbox servers that hosts a set of databases and provides automatic database-level recovery from failures that affect individual servers or databases.
A DAG is a boundary for mailbox database replication, database and server switchovers and failovers, and an internal component called Active Manager. Active Manager, which runs on every Mailbox server, manages switchovers and failovers within DAGs.
Any server in a DAG can host a copy of a mailbox database from any other server in the DAG. When a server is added to a DAG, it works with the other servers in the DAG to provide automatic recovery from failures that affect mailbox databases, such as a disk, server, or network failure.
Today we will create and configure DAG in Exchange 2013. Before to create DAG we need to configure  Environment for the DAG.
DAG should have two NICs: replication and client connectivity. So I have created 2 NICs.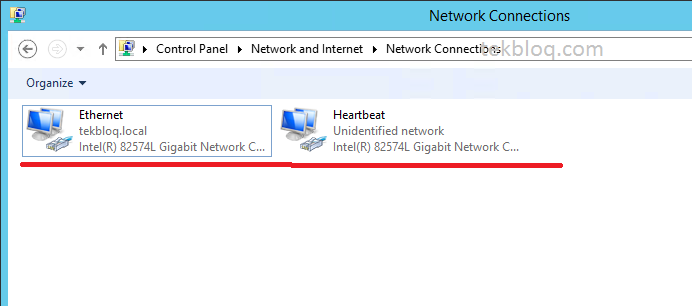 Then we need to make sure client connectivity NIC  is listed first.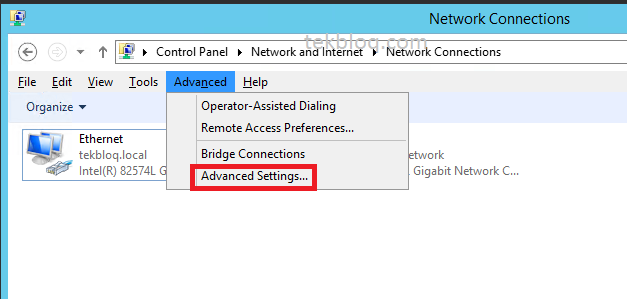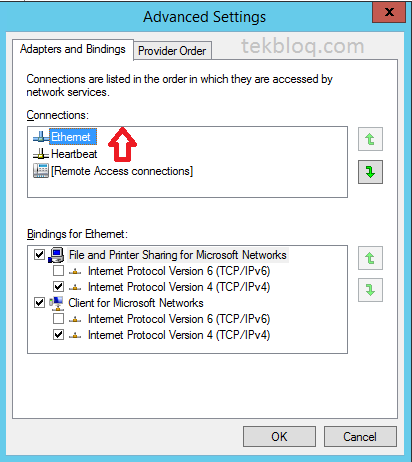 After that, we must create DAG Cluster Name Object (CNO). To create that log into Domain Controller and open Active Directory Users and Computers, Then Right-Click Computers OU and choose New-> Computer, Type DAG name and click OK: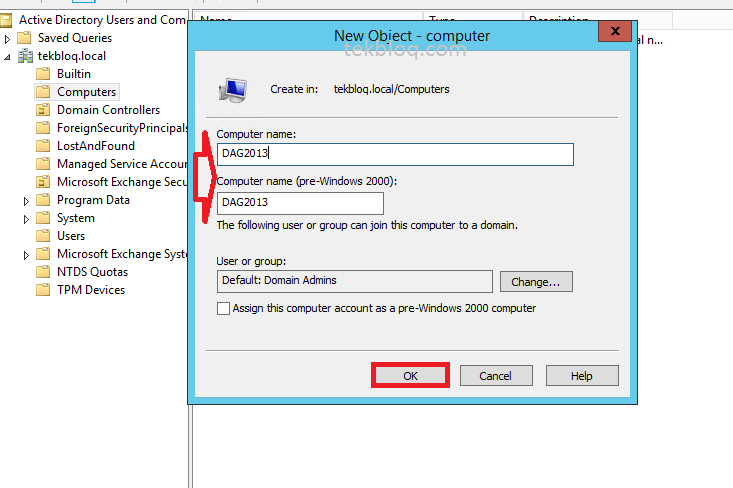 In the security tab of the DAG2013 computer object add DAG members(TMBX01 and TMBX02) and Exchange Trusted Subsystem group with FULL permission.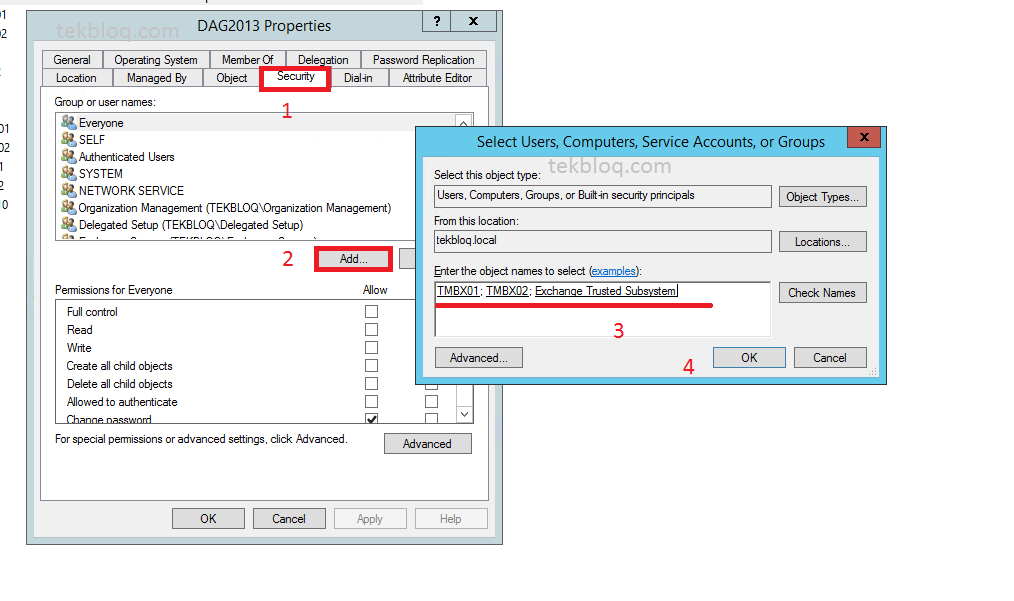 To see Security TAB you need to enable advanced features on Active Directory Users and Computers snap-in.
After that Disable computer account: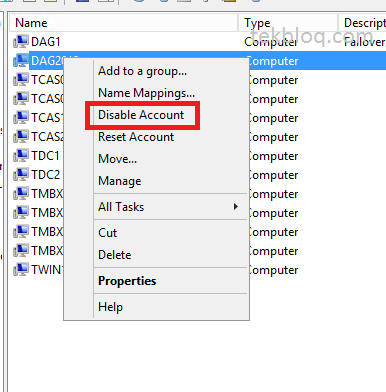 In addition, each DAG is configured with a witness server and witness directory. The witness server and its directory are used only when there's an even number of members in the DAG and then only for quorum purposes. You don't need to create the witness directory in advance. Exchange automatically creates and secures the directory for you on the witness server. The witness directory shouldn't be used for any purpose other than for the DAG witness server.
If you use CAS server for witness server you don't need any other configuration.
If you use non-exchange server then you must do following requirements:
Make sure file server role is installed on the witness server
Add Exchange Trusted Sub System group to the witness server local Administrator group
Create a shared folder in C drive on witness server.
In this case, i will use CAS server for witness server.
Now we can start to create DAG.  Use the EAC to create a database availability group. Go to Servers > Database Availability Groups. Click + :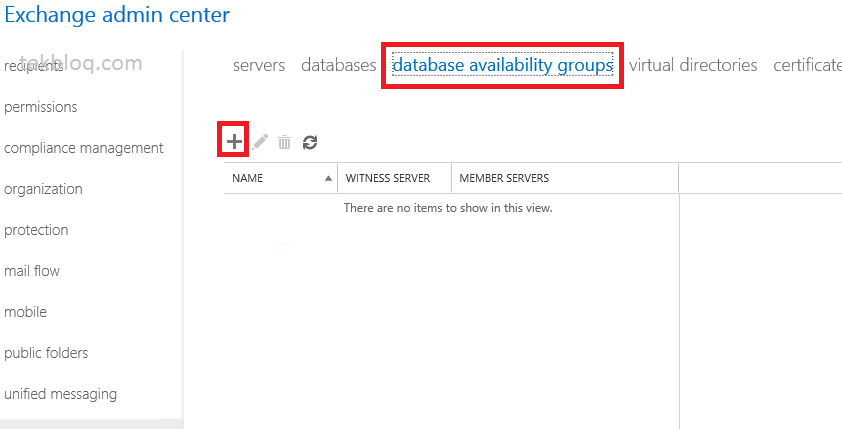 Enter the Database availability group name, Witness server, Witness directory and Database availability group IP addresses, Click Save: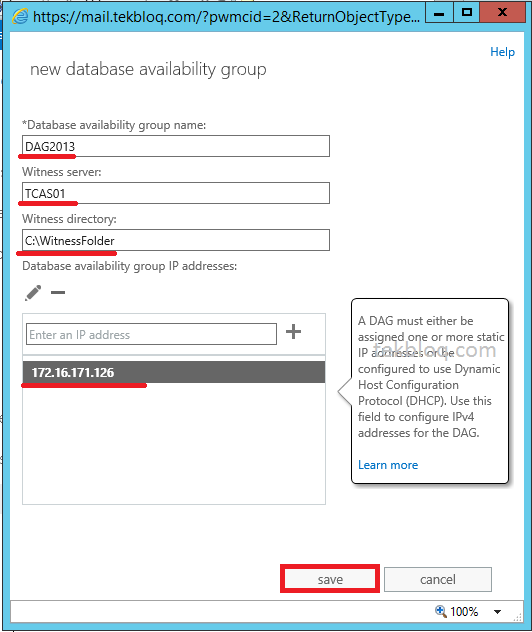 After that, we need to manage database availability group membership. So select the DAG you want to configure, and then click Manage DAG members: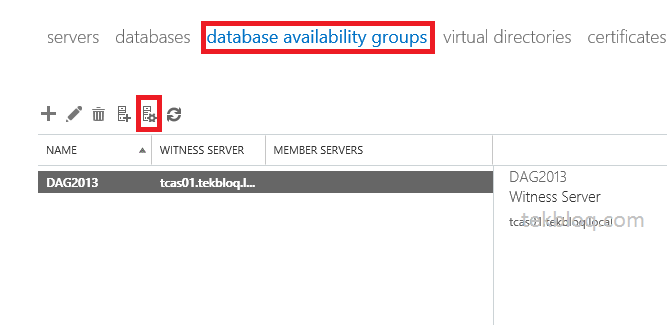 To add one or more Mailbox servers to the DAG, click Add + icon, select the servers from the list, click Add, and then click OK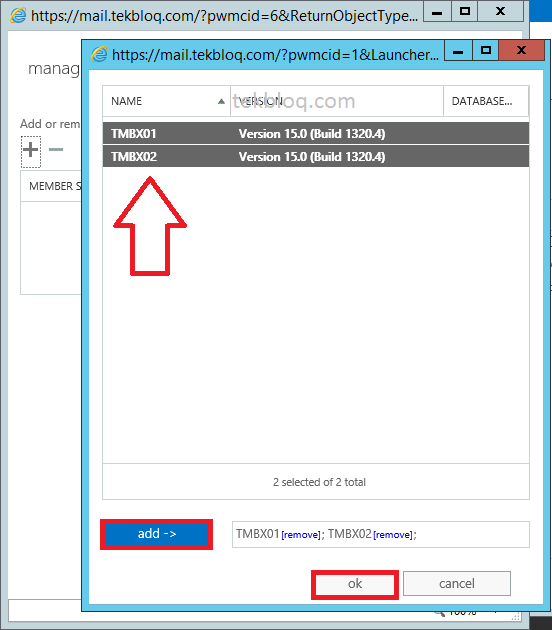 When the task has completed successfully, click Close: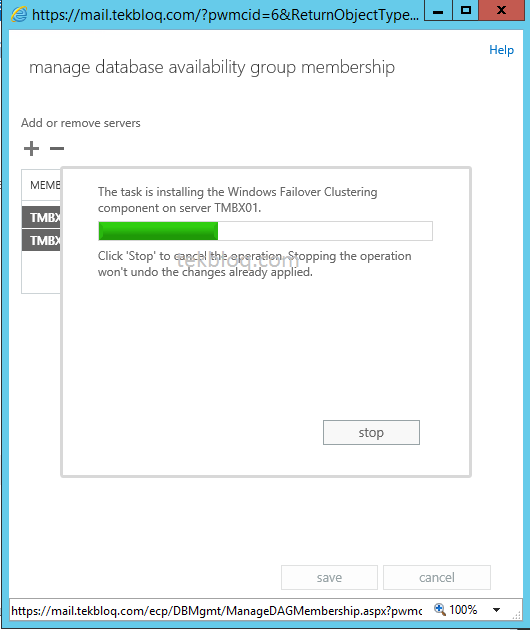 As you see DAG members added and you can configure DAG as following: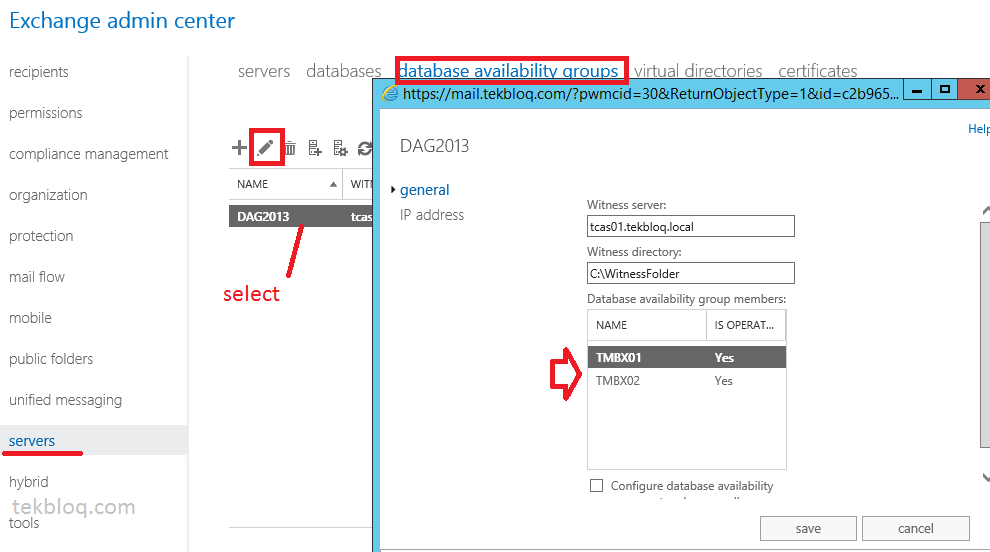 And witness directory created on CAS server:

Same time Failover Cluster created and current host server is TMBX01: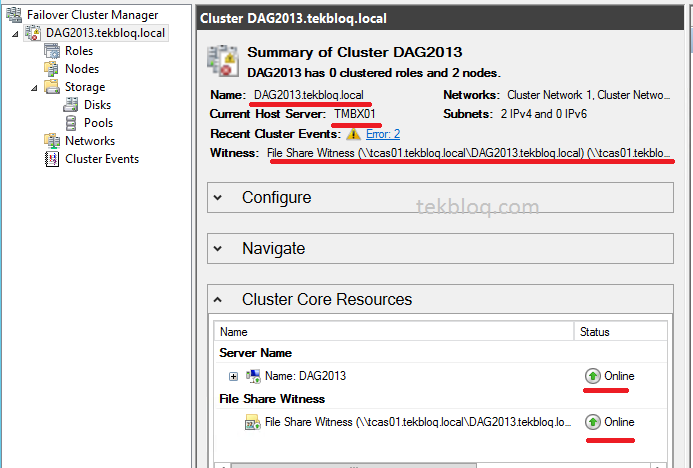 After DAG creation we need to add all database copies to another DAG member servers. To do that go to Go to Servers > Database and select database then click … and then Add database copy: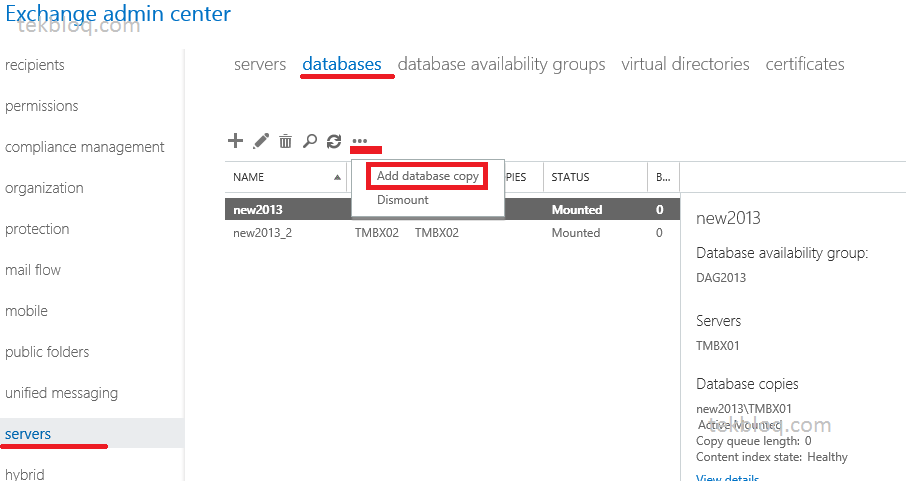 Select Mailbox server which you want to add database copy and click Save: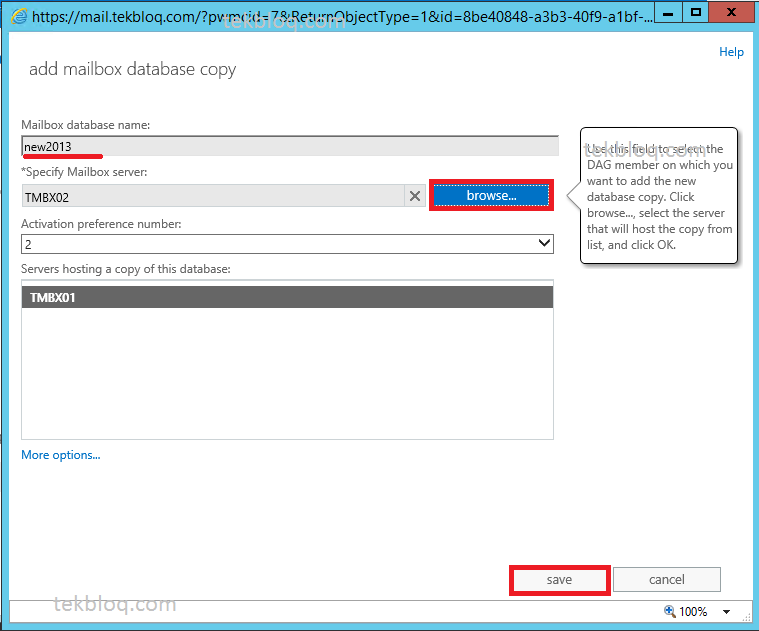 The end click Close to finish process: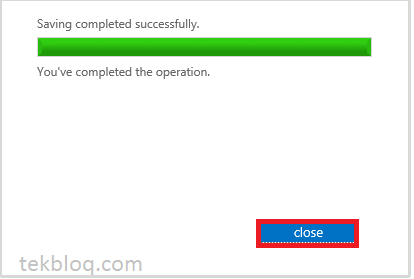 As you see now new2013 database copy available on both mailbox server. Same way you can add other copies.