FreeNAS is an open source network-attached storage (NAS)  and can be installed on virtual machines or in physical machines to share data storage via a computer network. FreeNAS supports Linux, Windows and OS X and  virtualization hosts  VMware and XenServer .
To set up a FreeNAS operating system, you will need to download latest stable installation ISO Image  from the FreeNAS download page.
After you download FreeNAS ISO image from the links above, if you've a CD/DVD drive, burn that ISO image to a disc and then boot it.
2. After booting the system with FreeNAS image, by default it will start the installation, if not we have to press enter to continue the installation.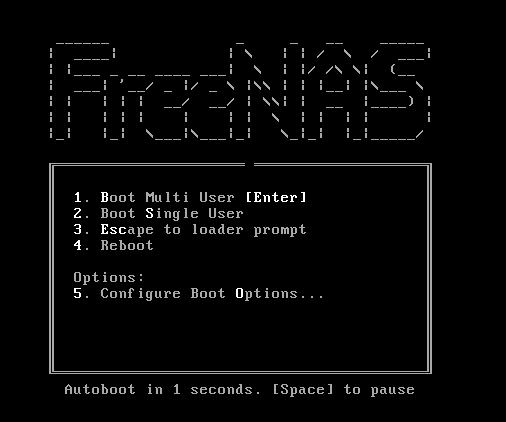 3.  we have to choose Install/Upgrade for installing FreeNAS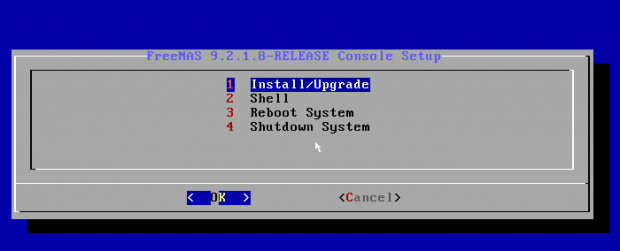 4. In this step, we need to choose where FreeNAS should be installed. We will be choice first one: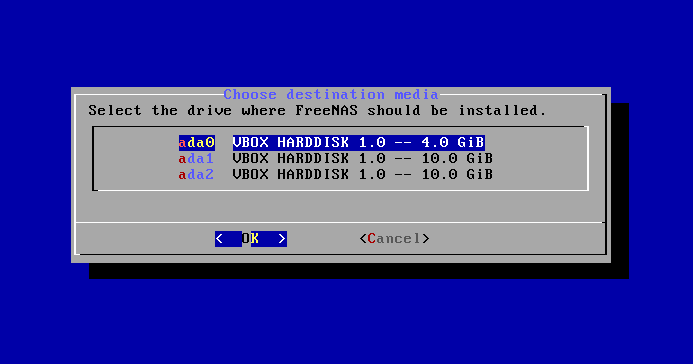 5. After selecting the drive, on the next screen you will warned for data loss, If you have any important data in that selected drive, please take a backup before installing FreeNAS on the drive. And select YES to continue:

6.After few minutes it will take us to the end of the installation process. Choose OK to reboot the machine and remove the installation Disk.

On the next screen, choose the 3rd option to reboot the machine and remove the setup Disk.

7. After FreeNAS setup completed, we can get the console setup menu to add the DNS IP Address to access the FreeNAS web dashboard.
By default at first it will assign a dynamic IP address and we have to configure it manually.  To configure DNS choose number 6 and press enter, then we have to enter the DNS information such as domain, IP address of DNS server and Press Enter.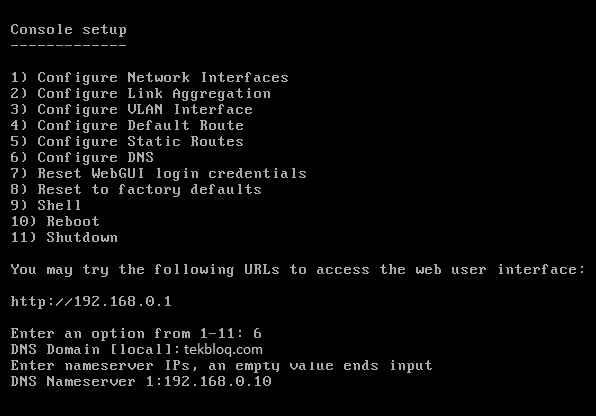 8. To configure the interface, press 1 and select the default first interface and fill all setting and pressing enter will configure the interface and get saved automatically.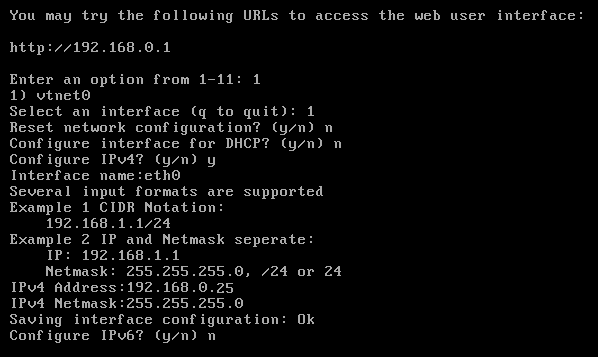 After configuring network interface settings, you will see that the IP address has been changed to192.168.0.25 from 192.168.0.1. Now we can use this address to access FreeNAS GUI from any one of the web browser.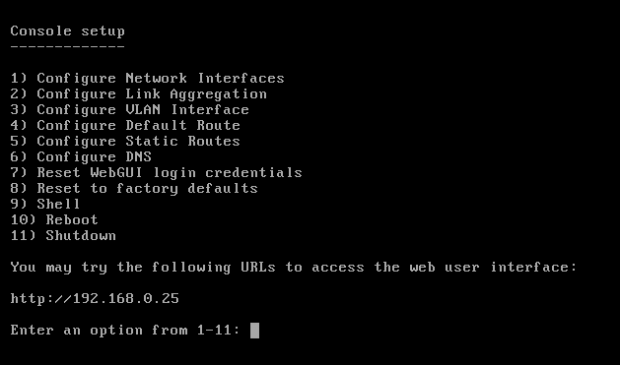 At first login, we need to define a PASSWORD for the root user to access GUI interface. Set a strong password for your storage server and continue login.
After login, you will see informations about FreeNAS server such as domain name, version, total memory available, system time, up time, system load, etc.